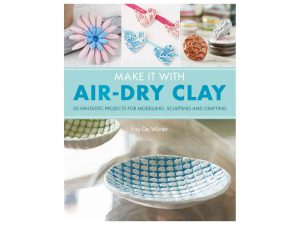 As a fan of air-drying clay, I was very interested to see what this book had to offer. Basic techniques are quite easy to pick up and are almost instinctive, particularly if you are used to working with pastry or fondant icing, but as far as adding colour and finishes are concerned, I am less sure so I read this book with great curiosity.
As a leading supplier of art and craft books, Search Press know what they are doing. The format is tried and tested in every respect even down to the size of the book. 'Make it with Air-Dry Clay' is produced in paperback and comprises of 112 pages measuring 18cm x 23cm. I mention this because it means the book will open and lay flat with ease making it practical to follow instructions when your hands are covered in clay!
Chapter 1 is divided into eight sections covering Tools, Materials and Techniques. Tools and materials are covered in quite a concise fashion, with plenty of photos, hints and tips. You are not overloaded with information and in a matter of minutes you are onto the techniques. These are dealt with, as you would expect, in more detail with step by step instructions accompanied by photographs. Subjects covered include; Pinching, coiling, creating slabs, making and pressing sprigs, surface decoration and sealing. As expected, I found the section on surface decoration fascinating. It includes practical information on surface preparation but also details on stamping, masking, brushing, sponging, impressing and my new absolute favourite, marbling using nail polish…. who knew! What a great way to use up old nail polish and creating fabulous patterns at the same time (I will be trying this imminently so look out for the next article).
Pg. 23 'Marbling with nail polish' from Make it with Air-Dry Clay by Fay De Winter
The remainder of the book is devoted to projects, 20 in total covering a broad range of decorative objects from jewellery to 'Balloon Barnacles'! (basically, dishes made by moulding clay around a balloon). There are some interesting ideas, most of which would be easily accessible to all and I think that is the overriding feeling I get from this book. Nothing is too complicated and everything is clear and easy to follow so this is perfect for anyone new to clay.
If you fancy making objects for presents or the home you can choose a trinket dish with impressed textures or a miniature mirror with a decorative frame. On the other hand, you may want to try your hand at ceramic brooches or earrings; either way, this is the book for you. Even if the projects are not to your taste, they are great inspiration to kickstart your own ideas. There are even some templates included at the back of the book to get you started so I defy anyone to not be inspired to have a go after reading this.
All in all, 'Make it with Air-Dry Clay' provides great basic instruction and inspiration for a series of clay techniques which will ultimately whet your appetite for more.
Written by Joanna Varney
Joanna has worked in and around the jewellery industry for well over 20 years. She has designed and created her own pieces as a designer maker, as well as working in jewellery retail on a much larger scale, producing designs and NPD for some of the UK's largest high street retailers